Archive for the 'nature' Category
Leve de blaadjes! Ban de bladblazer!
Door Jeanet van Zoelen
Medewerker Vogelbescherming Nederland
Overtuig uw innerlijke opruimer dat bruine bladeren en dooie bloemen niet meteen de biobak in hoeven, maar op beschaafde bergjes in de border mogen liggen. Ze zijn dan niet langer een rommeltje en menig vogel profiteert.
In het najaar komt de opruimer in de mens (of is het in de man?) naar boven. Dooie bloemen moeten de tuin uit, bruine bladeren in de biobak. Alsof we de winter willen bezweren, moet de tuin zo fris en monter mogelijk en bruin en verrot is niet fris en monter.
Maar, doe uzelf, uw buren, de insecten en de vogels een plezier: ban de bladblazer en omarm de kringloop van het leven. Ook afgevallen bladeren hebben een rol te vervullen.
Breek geen been
Afgevallen bladeren. Natuurlijk moeten die van het gazon af, anders komen er gele of kale plekken in. Ze moeten ook van de stoep, anders breekt u nog een been. Maar, nu komt het, neem gewoon de hark en hark ze over de planten in de border. Ze vormen een perfecte isolatielaag voor de bijtende winter.
Waardevol wereldje
Onder bladerhopen gaat ook nog een waardevolle wereld schuil: die van de kleine beestjes. De wormen, spinnen en insecten zijn er beschut, eten de blaadjes, verteren die tot compost, zorgen zo op een natuurlijke manier voor bemesting van de grond en verbeteren de structuur van de bodem met hun gewroet. Dat krijgt u nooit makkelijker voor elkaar!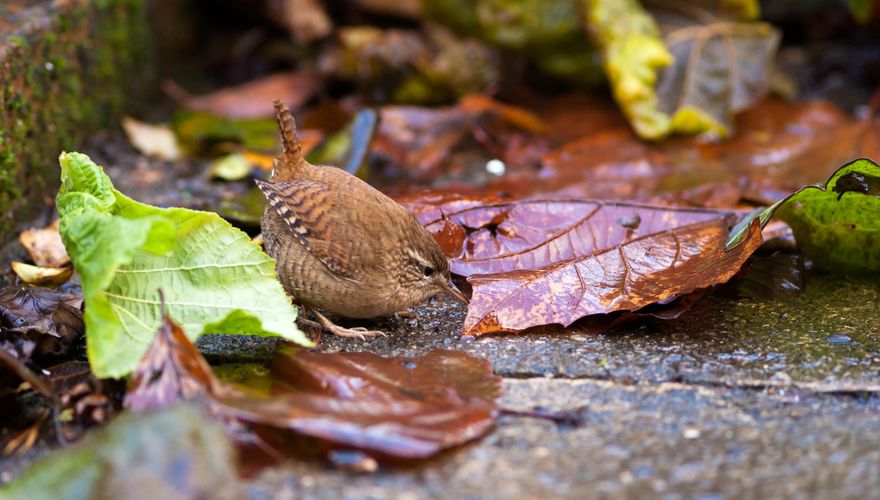 Hun leven hangt er vanaf
Het leven van winterkoninkjes, roodborstjes en heggenmussen (onder meer) hangt weer af van die pieterpeuterige beestjes. Met een volle maag de winternacht in gaan is echt van levensbelang voor deze kleine vogels. Als het hard vriest verbranden ze namelijk tot wel 10% van hun lichaamsgewicht om warm te blijven.
Zaden uit bloemen
Nu eten vogels ook veel bessen en zaden in de winter. Die kunt u voeren, maar ze zijn ook volop in de tuin te vinden. Tenminste, als u in de herfst niet alle dooie bloemen (inclusief zaden!) heeft afgevoerd. Afknippen is prima, maar leg ze daarna plat op de grond, oogt ook weer fris. De zaden die niet worden opgegeten krijgen de kans te kiemen in het voorjaar en zo blijft uw bloementuin weelderig.
Vogels zaaien bessenstruiken
Sommige zaden uit bessen kiemen zelfs het beste als ze eerst door een vogelmaag zijn gegaan en als poep weer op het land komen. Zo zaaien vogels bessenstruiken en verzekeren zichzelf onbewust van nieuwe bladerhopen met beestjes en nieuwe bessen. Mooi toch hoe dat werkt in de natuur.